Ragnar #24. I love the Del Sol course. This was the first time in years that I've been in Van #2. But they changed the finish line to Fountain Hills this year, so my third leg ending up being one of that I've done many times. They also changed the date of the race. They pushed it back a few weeks because they were afraid they were getting too much competition with the Phoenix Marathon. I'm sure that's true, but perhaps they should have changed it to January. They said they looked at historical weather data and that it was only a few degrees hotter. Well, hotter is hotter, so yeah, it was hot.
I had a fun van. It consisted of Mike and John, who I've been running with on Saturday mornings for the last few months. It also consisted of Megan, Mike's daughter, Alyssa, who I recruited as a former teammate of mine from several teams, and Bethany, another one of my recruits and former teammates. This was Megan's first Ragnar and she was a trooper. Alyssa is a Ragnar veteran, but recently was diagnosed with Type I Diabetes. She struggled, but she was able to do all her runs, even her last leg which was all uphill. Bethany was as solid as ever and made good friends with the other girls. Actually, Bethany's husband, Nate, was in the same van with me and Alyssa when we did So Cal Ragnar, so it was cool that they got to meet.
My first leg was 8.2 miles. It was shortly after 4pm on Friday, and it was probably in the mid 80's when I started and low 80's when I finished. I was doing good up until the 2nd water stop right around 5.8 miles. That next mile was a real struggle. Lots of walking. I wondered if my compression socks were cutting off the circulation to my legs. Thoughts? Obviously the heat also had something to do with it and the fact that it was all uphill, albeit gradual. I was surprised because the 9.2 miles I did the Saturday prior felt great. Anyway, with about a mile and a quarter to go, I finally talked myself into running the remainder of the leg, because, come on, one and a quarter miles is easy, right?
My second leg was 5.2 miles, again all uphill. It was around 2am. I felt a little better, but still struggled to really push the pace. This was the only leg I didn't pass anyone, but I only got passed by a handful of runners. I stopped once because I thought my sock was sinking down into my shoe. That would have been a disaster. Luckily it wasn't, but it took me about 30 seconds to get going again. Other than that, it was a good run. Oh, and I saw a couch on the side of the road that I almost took a nap on.
You may recall that Mike had run the Phoenix Half Marathon two weeks ago and really struggled with his knee. Well, it was getting really painful for him and his last leg was 9.2 miles. Bethany, John, and myself offered to run his last leg for him. He was going to take me up on the offer, but Rebecca from Van 1 joined our van for the last set of legs. She's also a solid runner and had done the Phoenix Full. They decided to do Mike's leg together, Rebecca would run the first half, which was half uphill and half downhill. Then Mike would run the last half, which was all downhill. I'm glad I didn't end up running it, but I feel like I could have done it. Anyway, it was getting hot again, but Mike powered through the pain. He handed off to me and I was off for my final 4.3 miles. Finally some downhill! It was nice, but it was hot. I carried a bottle of water with me and I would take small drinks and dump some on my head. Within 5 minutes it would be dry. Luckily there was a water station half way through. This is where a guy and a girl passed me up. I filled up my water bottle and took off with a nice slow pace again. About another half mile down the road my van was stopped and John had a bottle of Gatorade and water. I motioned to him for the water. I just used it to dump all over myself. I started again and was able to pass the guy that passed me at the water station as he had started walking. I noticed the girl was walking, too, and I closed the distance on her. When I passed her, she started running again. She was a few steps behind me and we were able to talk and joke about the race so far. We encouraged each other and with about a half mile to go she pulled up even with me. I told her I wanted her to beat me, but she said, "No! You're the only reason I'm even still running at this point." So with a hundred yards to go I said, "Come on! Strong finish!" I expected her to pick up the pace and run with me, but she didn't. So I ended up beating her in and I actually felt strong.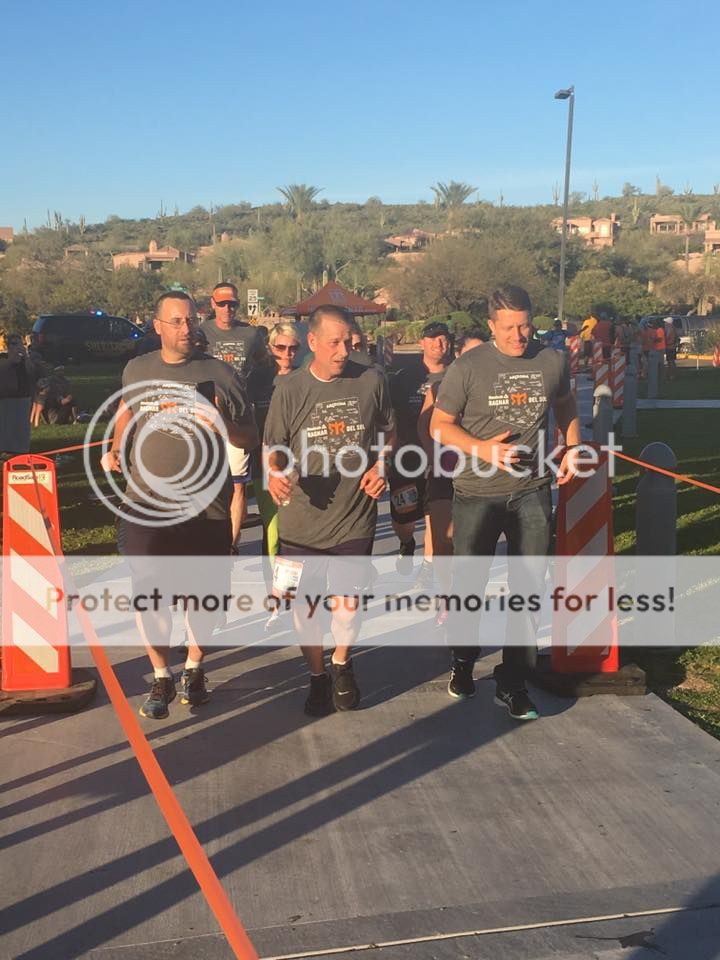 Bethany and John were our last runners. To get to the Fountain Park in Fountain Hills we had to park at the high school a mile and a half away and catch a shuttle. I was worried that it would be a disaster, but it was good. We got there in plenty of time. I Facebook lived our finish.
Here's our team minus Tyler, who I guess had somewhere more important to be.
Here's van 2. Mike, John, Rebecca, Megan, Alyssa, Bethany, and me. I don't consciously remember sucking my gut in.