| | |
| --- | --- |
| Mizuno Wave Inspire 9 Miles: 33.59 | New Balance 1260v5 Miles: 5.61 |
I couldn't quite get that last 0.01 miles in. Today's route was determined by the fact that I started to run and realized I had to go peepee. I had gotten my running clothes on in the morning, but I had work to do, so I kept putting off going. I don't ever eat before I run, so around 1:30pm I was getting hungry. I told my wife I was starving and she told me to eat. I told her I hadn't run yet, so she made me drink a protein shake and said she would make me lunch when I got back. I drank the shake, stretched a little, and started my run. It was kind of warm and I realized my bladder was full. So I decided to run up the canal 2 miles where there is a nice clean public restroom. Then I ran home.
Mizuno Wave Inspire 9 Miles: 3.99
Comments(6)
Usery Pass again with Mike and John. I'm feeling better each week. We discovered a porty potty at the main intersection where they're doing some construction. I needed to use it so I just did a little bit of stretching and ran to it before Mike and John started. The honey bucket was on a trailer that wasn't secured to anything so it became a balancing act. I was most afraid of losing my phone to the murky blue deep. I had brought my own TP, but I was glad there was some in there because, boy did I need it. By the time I finished, Mike and John were ahead of me, but I could see their tail lights. Because they got another head start on me, I decided that when the last of them passed me on the way back, I would turn around. I heard another coyote. It sounded far off, so I howled back. Actually it was more like a Ric Flair whooo! After that I didn't hear the coyote anymore. I got passed by a cyclist who had a pretty good pace going for the uphill. When he caught Mike and John was about the last time I saw them until they were coming back down. First Mike came by. I'm not sure if he was ahead or if John ran further. I think the latter. When John came by I ran for about another 30 seconds and then turned around. I kinda wished I hadn't because I was only a quarter mile from the top. Oh well. About a half mile before the bottom, a group of three ladies were running up and they were getting passed by a handful of cyclists. It was nice to see so many active people out. Also right then, I saw a guy taking a picture of some of the famous Salt River horses. I'm not sure if I would've noticed them if he wasn't there. I paused and snapped a quick picutre myself.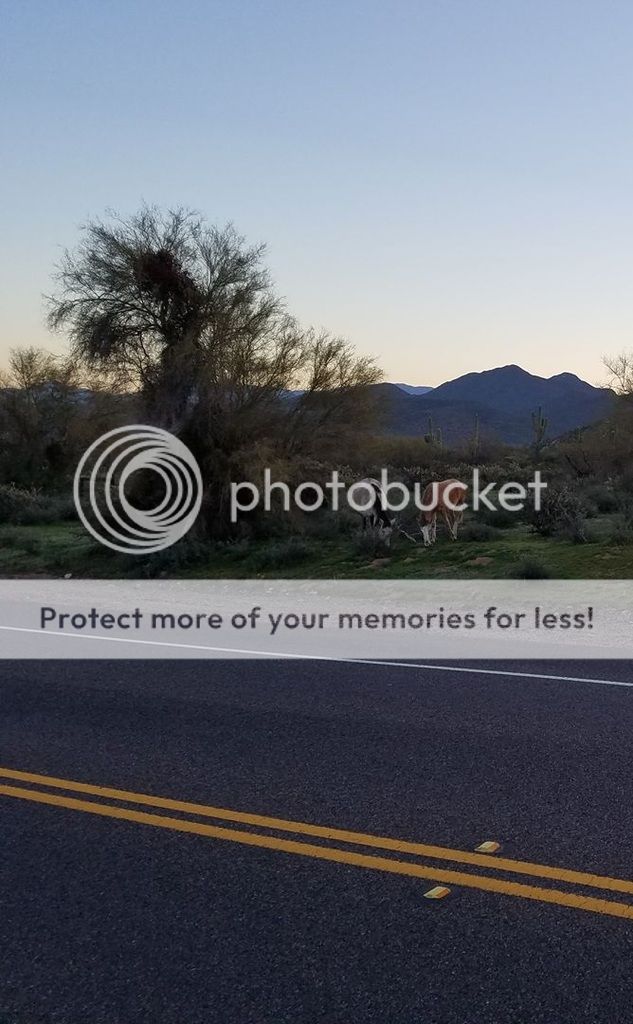 When I got to the truck John and Mike were surprised that I was back already. Little did they know I didn't go all the way to the top.
Mizuno Wave Inspire 9 Miles: 6.80
Comments(2)
Lots of people out this morning on the EMF trail and the RWCD road. Mostly old. When will I consider myself one of them? I also saw Sis. Lowe. She was running down the street pushing her baby stroller. Her baby is probably 6 or 7 months old. Maybe older. Nice to see her getting back in shape.
Mizuno Wave Inspire 9 Miles: 3.69
Comments(6)
I saw a lot of people running with their dogs today. It made me miss my dog. I never told anyone this, but Ginger died last year. It made me sad to think about her. On a positive note, my body felt great today.
Mizuno Wave Inspire 9 Miles: 4.02
Comments(1)
Mike was sick today, and John was in Flagstaff. Luckily Alyssa and Phil came to run this morning. Alyssa has run a few Ragnars with me. At least three that I can think of, maybe four. I'd never met Phil before. He's a friend of Rebecca's who was on our team last year. This week we assigned legs to all the runners. Phil will be our first runner. His first leg is no joke and Alyssa and I laughed in unison when he told us he was the first runner. I'll be runner #10. My first leg is 8.2 miles and my second is 5 miles, both a gradual uphill the whole way. My last leg will be downhill, then evens out with a few rollers. Anyway, Alyssa has been battling diabetes this year, so I hope she's able to get in shape enough to run her 13 miles. Today she walked all the way to the top and jogged back down. Phil and I ran the first half mile together. Then he asked if I would be offended if he picked up the pace. I told him not at all and it didn't take long for him to put a significant gap between us. However, then he started walking. Looks like he was doing the Galloway method. It worked for him. He stayed in front of me the whole time. Today was the first time this year I made it all the way to the top and all the way back down. So, that was good. About a mile and a quarter into my downhill, I saw Alyssa. I stopped to see how she was doing. She assured me she was all right. We started running this morning about 8:30am, so it was really warming up and my mouth was drying out. I was glad to finally finish, and that last half mile seemed like it took forever. I drove up to check on Alyssa, and I saw her jogging back down almost the same place I saw her on her way up. Once again, she said she was doing fine. I asked if she wanted me to follow her. She declined. She just texted me as I'm typing this up to say she made it. I'm proud of her. We should have a fun van.

Mizuno Wave Inspire 9 Miles: 7.40
Comments(2)
I've been pretty stressed at work lately. I probably shouldn't talk about it because there might be a law suit involved, but just saying that, you can imagine my stress. Anyway, yesterday I put my running clothes on, but right before I left to go on my run, I got a call from one of the parties involved. After that I called another party involved, and they said they would call another party involved and get back to me. Well, they never did, so I never went running. In fact, I just slept in my running clothes last night and finally went this morning. I felt good at first, but then I think the stress got to me and I decided to stop at 2.5. I'll try again tomorrow.
Mizuno Wave Inspire 9 Miles: 2.55
Comments(4)
I usually wait until my daughter gets on the bus before I leave to go running. Since I haven't run in a week, I thought it best that I only do a mile and a half. Therefore, I should have plenty of time to run before the bus got here. I started to run and realized I felt pretty good. It's one of those things where if I had more time, I would have gone further. But since I didn't, I'll just have to make sure I go running tomorrow. I got home about two minutes before the bus got there and got to have her punch my face through the bus window. It's our daily ritual.
Mizuno Wave Inspire 9 Miles: 1.46
Comments(3)
I didn't run yesterday because I got this 24-hour bug thing. I did get lots of rest. I felt better today and decided to try for 5 and a half. It felt ok. The Arizona Rattlers training facility backs up to the RWCD canal. On the way back they had taken the field and were tossing the pigskin around. I was hoping to get some cat calls or whistles.
New Balance 1260v5 Miles: 5.61
Comments(6)
Ragnar is in two weeks. I felt great today. Gotta be more consistent.

Mizuno Wave Inspire 9 Miles: 3.68
Add Comment
| | |
| --- | --- |
| Mizuno Wave Inspire 9 Miles: 33.59 | New Balance 1260v5 Miles: 5.61 |
Debt Reduction Calculator